Wolverine Origins Official Halloween Costume Ideas for 2012
Wolverine (who is also called Logan) was always a popular character for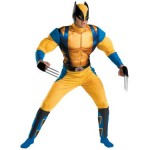 Halloween but, ever since the movie release in 2009, Wolverine Halloween costumes have been in high demand. Wolverine, the character from the X-men Marvel comic, is a mutant with animal senses, super human strength, claws on each hand and a healing ability that helps him recover from any wound.
Wolverine Halloween Costume Choices
There are a number of officially licensed Wolverine Halloween costumes on sale. Logan has worn a huge range of different outfits throughout the years, and didn't always wear a superhero costume, but the most popular for 2010 is the X-men Origins yellow and blue suit with mask.
The Wolverine Origins outfit is a classic, tight and muscly superhero suit: yellow with blue accents around the forearms, sides, shoulders, and lower legs. Marvel have recreated the suit in a number of different formats for both adults and children to help make it easy to dress as Wolverine this Halloween.
The "Wolverine Origins Adult Costume" is the top of the range, with a high quality authentic jumpsuit, complete with muscles, gloves/ claws, vinyl belt and Wolverine mask. The cheapest option is the Wolverine Origins Deluxe Adult Costume, with a lower quality jumpsuit and no muscles, or you could opt for the slightly more authentic Classic Muscle Adult Costume.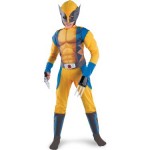 Kids can choose a costume with muscles or without. The Classic Child Costume includes only the jumpsuit and mask, where the Classic Muscle Child includes a muscle jumpsuit, mask, claws and belt.
Creating Your Own Wolverine Costume
It's going to be difficult to replicate Wolverine's Origins superhero suit, though there's no reason why you can't still make your own unique Wolverine costume. Why not replicate some of his older looks from the comics, such as the white undershirt with dog tags? Just make sure you get the hair and the claws right, and you'l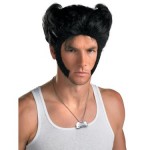 l still be recognizable as this iconic comic book character.
Wolverine Halloween Costume Accessories
There are a few important accessories, whether you're buying a readymade Wolverine costume or making your own this year:
* Wolverine Claws: The claws are Wolverine's most distinctive feature. His retractable claws are housed within each hand and cut through his flesh each time he releases them. Either attach your own plastic claws or take advantage of the official claws with skin colored gloves for a realistic look (available for adults and children).
* Wolverine Mask: The Wolverine mask, complete with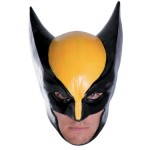 ear-shaped peaks, is available in vinyl form for a realistic replica of the original in the Origins movie.
* Wolverine Sideburns: Wolverine is well known for his sideburns that grow all the way into his beard. Either try growing these yourself, or simply buy a Wolverine origins accessory kit for the sideburns and matching wig.
Click here to find the perfect costume
Gothic & Vampire Costumes
Halloween Props and Decorations
Accessories and Makeup
It's a monster stash. Get a $250 Sears(R) or Kmart(R) gift card for Halloween supplies FREE, details apply.