Twilight: Eclipse – The Perfect Halloween Costume Theme for 2012
Twilight costumes are really popular, and the popularity is only growing thanks to the recent release of Twilight Eclipse movie! Twilight is the classic vampire story, set in a small town in modern USA, where a normal girl meets a vampire and their lives change forever. By the time we reach the Eclipse story, there are plenty of characters to choose from.
Twilight Costumes: Bella
Bella Swan is the human that quickly found herself caught up in the vampire world. She's the girl that most teens dream of being, dating the handsome Edward Cullen (a "good" vampire). She isn't (to begin with) a vampire herself, so costume ideas need to be a little more creative if you want to go dressed as this character.
Make sure you can recreate her long brown hair with a wig if it isn't your natural style, and perhaps opt for some brown contact lenses. As for clothing, you should generally stick to dark colors, or you could go for the memorable blue prom dress that she wears in the books and in the movie.
Twilight Edward Costume
For guys, one of the most popular choices is the Twilight Edward Costume. The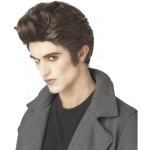 handsome vegetarian vampire is frozen at the age of seventeen, which means he can be seen wearing the kind of clothes that normal teenagers would wear. Some of his distinctive features include very pale skin, golden eyes after feeding, and the fact that he's drawn to Bella's blood! To get the hair right, you could go for the Love At First Bite Adult Wig to recreate that bronze color.
Other Twilight Vampire Costumes
If you want true Twilight vampire costumes then it's important to remember that they don't have the classic vampire fangs – so don't buy them! Instead, make sure you get the pale skin right, and get the right wigs to match the vampires' in the movie.
Twilight Werewolf Costumes
Of course, dressing as a vampire isn't the only option if you're using a Twilight theme. Werewolves are just as popular, and provide even more scope f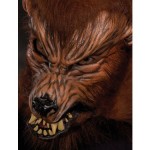 or finding the most original costume idea out there.
The Twilight wolves aren't werewolves in the traditional sense, rather shape shifters who take the form of wolves. But that doesn't mean you can't use some traditional werewolf costumes and masks to complete the look for a Twilight Halloween party. The Howl-O-Ween Adult Mask will make sure your face looks right which you can combine with wolf hands and a furry outfit!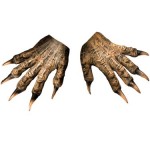 Whatever character you decide to be, you'll have to be a little more inventive if you want a Twilight Halloween costume: they aren't available as full officially licensed sets. However, there's no doubt that Twilight Eclipse Halloween costumes are still going to be some of the most popular this year.
Click here to find the perfect costume
Gothic & Vampire Costumes
Halloween Props and Decorations
Accessories and Makeup
It's a monster stash. Get a $250 Sears(R) or Kmart(R) gift card for Halloween supplies FREE, details apply.