Robin Hood Halloween Costumes Based on the 2010 Movie
The new epic version of the traditional Robin Hood story hit theatre screened
in 2010, with Russell Crowe playing the main character. The movie shows epic battles and a fantastic re-telling of the classic story of the man who robbed from the rich to give to the poor. The Robin Hood theme is always a popular one, but it's set to be even bigger in 2010 thanks to its latest movie incarnation!
Putting Together Your Robin Hood Costume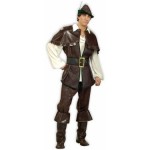 There's no shortage of ready made Robin Hood costume kits available for those who want to save time and come out with a very authentic costume. Some of the classic features of the Robin Hood costume include the feather in the cap, green and brown tunic, cape and boots. The new 2010 Robin Hood doesn't stray far from this traditional idea of the legend. Some of the top options include the Robin Hood Designer Collection Adult Costume, the standard Robin Hood Adult Costume, and the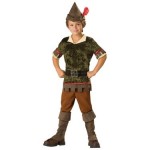 Robin Hood Child Costume.
If you want to create your own Robin Hood costume then start off with a good pair of green tights! You'll then need a green T-Shirt, some green or brown felt, and perhaps even a cape depending on what kind of Robin Hood look you want to create.
Maid Marian (Marian Loxley) Costume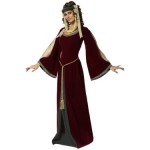 Maid Marian is the beautiful wife in the movie, and her outfit is based on traditional medieval English dress. This means you should expect long, plush gowns, waist ties, and big sleeves. You can choose what kind of color would suit you best, though Marian's often seen wearing dark greens and browns to match Robin.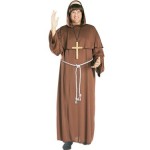 Friar Tuck is always a fun and popular choice at Halloween, especially for those with a fuller figure. Friar Tuck in the 2010 movie is just as we would expect him: adorned in traditional, brown Monk's robes and with the standard bowl haircut. You could opt for any Medieval Monk costume, or go specifically for the Friar Tuck Adult costume. Both come complete with the wig (including bald patch)!
Sherriff of Nottingham Costume
Last, but by no means least, you could choose the Sheriff of Nottingham costume. The Sheriff is the notorious bad guy, and you'll have lots of fun dressing up as him on Halloween night! The look for the Sheriff does vary from movie to movie. In 2010, it means a long black robe complete with plenty of silver adornments, big black boots and, most importantly, a big sword! You must come prepared to fight your ultimate rival: Robin Hood.
Click here to find the perfect costume
Gothic & Vampire Costumes
Halloween Props and Decorations
Accessories and Makeup
It's a monster stash. Get a $250 Sears(R) or Kmart(R) gift card for Halloween supplies FREE, details apply.