How to Train Your Dragon Halloween Costume Ideas for 2012
One of the best Halloween costume ideas for children is based on the movie How to Train Your Dragon. Both kids and adults alike will find themselves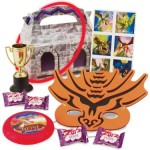 inspired to dress as Viking "dragon killers" and dragons themselves this Halloween in How to Train Your Dragon costumes!
How to Train Your Dragon is the story of a Viking boy, Hiccup, who was training to kill dragons, but instead found a rare friendship in the form of his enemy – a friendship that they must keep secret. But another resident of the village, the young female Astrid, soon finds out and joins Hiccup on his adventures.
Official How to Train Your Dragon Merchandise
Unfortunately there's not much in the way of official How to Train Your Dragon costumes. But there is plenty in the way of party supplies. Just put together your costume from other, non-official sources while you take advantage of accessories such as the paper cone hats, the party favor kit, or the deluxe party kit. Kids are bound to go nuts over this theme! Perfect for Halloween and birthdays.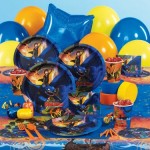 Creating Your Own "How to Train Your Dragon" Halloween Costumes: Vikings
Since there aren't any officially licensed How to Train Your Dragon costumes available, you can either make your own or use other costume options. The good news is that it's fairly easy to find readymade Viking costumes if that's what you're after. Simply buy a Viking hat and make the rest, or buy the whole Viking warrior outfit for men, women or children! And don't forget your shield!
Dragon Costumes: Night Fury
You can have some real fun with Dragon costumes this Halloween. There are a few different types of dragon in the movie, though the main one is known as Night Fury. Night Fury dragons are very rare but also very intelligent. They're dark in color with striking yellow eyes, and have a very large wingspan compared to the size of their body, helping them to fly better than any other dragon. Thankfully, this popular dragon will be easy to recreate simply by using dark colors and creating dark wings.
Other Kinds of Dragon
There are various types of other dragons in the movie these include Gronckles with tiny wings, Monstrous Nightmares who are very large and spiny, Deadly Nadders with blue crests, Terrible Terrors who are the size of dogs, Hideous Zipplebacks who have two heads, and the Red Death who is a huge dragon and the main enemy of the movie. All these choices will make How to Train Your Dragon Halloween costumes a great hit this year!
Click here to find the perfect costume
Gothic & Vampire Costumes
Halloween Props and Decorations
Accessories and Makeup
It's a monster stash. Get a $250 Sears(R) or Kmart(R) gift card for Halloween supplies FREE, details apply.