Children's Witch Costumes For Halloween
Are you looking for that perfect costume for your child this Halloween? Do you want an outfit that will not only look great but will also be super comfortable and extremely affordable? If so, then you will certainly want to check out a few of our personal favorites.
Child Witch Costume
This toddler witch costume is certain to cause quite a commotion this season.
It comes complete with a long, full length black robe that includes an attached purple collar. A matching purple waist sash that is accented with a super cute rhinestone buckle helps tie this look together nicely. The insides of the free flowing sleeves are also accented in the same colored purple.
To complete this outfit a matching hat that features a rhinestone buckle is also included. Add an inexpensive broom and a cat inspired plush basket for her to carry her loot in and this costume is complete!
Hocus Pocus Witch Costume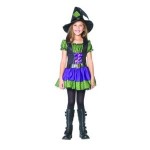 Are you looking for witch clothing that is fresh, new, and unique? This absolutely adorable girls witch costume was just recently released and is sure to be one of our best sellers this season!
This witch outfit includes a precious peasant style dress that comes with an attached corset with lavender laces and a matching hat that is accented with green patches. Please note that this costume is purple (lavender) although it may appear to be a darker blue in the picture provided.
Add a black of purple and black striped tights and a favorite pair of black boots and your daughter will certainly have a wonderful time pretending to cast spells on her friends this Halloween.
Ballerina Witch Costume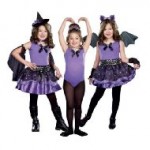 If your daughter is anything like most little girls she will have a difficult time deciding between a super cute ballerina costume and a scary witch costume! Why not let her be both this year?
Watch the magic unfold as your little one casts her spells while dancing around in this ballerina inspired girls witch costume! This super cute costume comes complete with a purple tutu-sytle dress that features black trim and memorable matching bat wings. Also included are black gloves (fingerless) and a black headband.
A classically inspired witch hat is also included to round out this mesmerizing outfit nicely!
You will definitely want to add a pair of our inexpensive spider web tights to this enchanting ensemble!
Despite their reputation of being ruthless old hags that create nasty potions and cast spells on people there are plenty of nice witches around. From Sabrina the Teenage Witch to Glinda the Good Witch there are plenty of good role models available for your little one to emulate this Halloween! Find your daughter a cute child witch costume before it is too late!
Click here to find the perfect costume
Gothic & Vampire Costumes
Halloween Props and Decorations
Accessories and Makeup
It's a monster stash. Get a $250 Sears(R) or Kmart(R) gift card for Halloween supplies FREE, details apply.